Baltimore Hydraulics offers Free Pickup & Delivery services for all your hydraulic components.
If your system is down and you have the capability of removing the defective component, bring it to us and have it brought back to fully operational condition. All repairs are 100% tested and guaranteed.
Cylinder Repairs
Our Cylinder Shop provides you with cost effective, quality repairs to all types of hydraulic and pneumatic cylinders. All rebuilds are 100% flow, pressure, and operationally tested. This department also incorporates a complete machine shop which allows us to fabricate our own repair parts saving you in repair costs and down times.
Honing — All cylinder bores are honed to remove small nicks and burrs as well as provide the surface finish required for the type of seals being installed.
Polishing — All cylinder rods are polished to remove small nicks and burrs and provide a smooth, damage free surface for proper sealing.
Tolerances — Once the honing and polishing processes are complete, all parts are measured and checked for proper fit and tolerance.
Re-Chroming — Most cylinder rods, and some cylinder bores are chrome plated. If the chromed surfaces of these parts are found to be damaged, the first approach is to repair the affected area if small enough. The next step is to grind and prep the entire surface for re-chroming, and if the damage is severe a new part will be machined from plated material.
Bearings — All soft material wear bands and bearings are automatically replaced. Bronze and other soft metal bearings are machined new as normal wear usually leaves these parts out of tolerance.
Machining & Welding — Any broken, worn, or defective parts are fabricated new in our Machine & Weld Shops.
Assembly — Once all parts are renewed or reconditioned your cylinder is assembled by experienced personnel.
Testing — All component repairs are 100% tested at the appropriate pressure & speed.
Replacements — If all else fails, we offer a full range of standard and custom cylinders in welded and tie rod designs. These cylinders are available in inch and metric sizes as well as various pressure rages and materials. If it's a special, we will design and custom build your cylinder to order.
Winch Repairs
Baltimore Hydraulics, provides quality repairs on all size winches for any application (cranes, ships, etc.).
We have built a test stand that is capable of performing  pull, brake & live load test with capabilities up to 30,000 lbs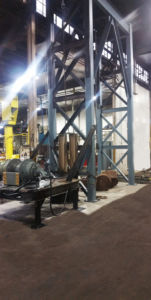 Pump & Motor Repairs
We now provide service and repair on Centrifugal pumps!
Baltimore Hydraulics provides quality repairs on all types of hydraulic pumps, centrifugal pumps, motors, and control systems. Most often these components can be rebuilt for a fraction of the cost of new. All repairs are tested 100% up to 10,000 PSI and 150 GPM. Repairs from this department are returned with a detailed Report showing the unit's performance at varying flows, and pressures.
Part Reconditioning — Through surface grinding and lapping many wear surfaces can be brought back into tolerance with regard to flatness and finish.
Parts Replacement — Any parts worn beyond specs are automatically replaced with new. All bearings are replaced regardless of their apparent condition.
Assembly — Units are assembled with cleanliness in mind and all hardware is torqued to factory specifications.
Testing — Every repair made in our facility is tested with test stands designed specifically for the test being performed.
Specialties — Hydraulic Winches are a specialty of this department with Pull, Break & live load testing capabilities up to 30,000 lbs.
Valve & Manifold Repairs
Baltimore Hydraulics provides quality repairs and replacements on all types of hydraulic valves and manifolds.
Accumulator Rebuilds
Baltimore Hydraulics provides quality accumulator rebuilds.
System Repairs
Baltimore Hydraulics, has the facility to bring in your equipment and repair it.
Hydraulic power unit (electric or engine driven)
Lift Table
Hydraulic Attachments
Grease Systems
Clamshell Buckets
Hydraulics Tools (Jack Hammers, Tampers, etc.)