Baltimore Hydraulics, Inc

.
provides quality driven hydraulic repairs & services with over 55 years of experience.
We are very proud of the level of service that we provide, and will do our best to see to it that you receive top quality, and personal attention to all of your hydraulic needs.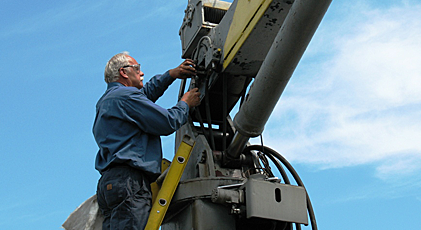 Items brought to our facility are repaired to new condition in several Component Repair departments. These repairs include Cylinders, Pumps, Motors, and Controls, as well as equipment such as Winches, Hydraulic Power Units, Presses, & Tools. All repairs are 100% tested before their return and we offer free pickup and delivery.
A fully equipped Machine & Weld Shop supplies parts for our own use, as well as directly for our customers. These fabrication capabilities allow design and building of custom Hydraulic Power Units, Cylinders, and Equipment to fill customer's needs.
Our Truck Shop offers troubleshooting and repair services to all vehicle mounted hydraulic equipment. This department also performs ANSI & DOT inspections and dielectric testing either in our facility or in the field.
When you require a specialist on site, our Field Service Dept. will dispatch technicians to troubleshoot & repair your equipment at your location. These services are offered and utilized throughout the United States and include 24-7 emergency service.
Our Parts Department provides direct sales and distribution of parts, new components, hose assemblies, and more.
Component Repairs | Design & Fabrication | Truck Shop | Field Service | Machine & Weld Shop | Direct Sales & Distribution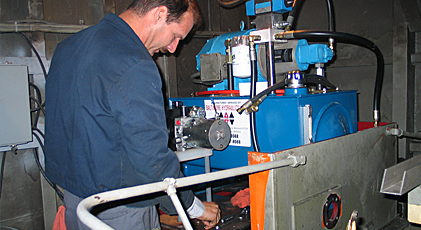 Industrial Market: Our services are widely used in Manufacturing Facilities, Quarry and Milling Operations, Recycling Plants, Incinerators, Marine Terminals, and other land based facilities that use hydraulic systems in their operations.
Marine Market: Most operations on a ship are being performed by a hydraulic system. Deck Machinery, Hatch Covers, Cranes, Steering and Ballast systems are only a few examples.
Government: BHI is currently being utilized by a wide range of Local, State and Federal Agencies. Our expertise has made us a trusted source for service to Dams, Locks, Target Systems, Test Chambers, Pumping Stations, and Sea Going Vessels.
Commercial / Retail: Originally focused on Bailers & Compactors, we soon expanded to Sign, Roofing, and Building Supply companies as well as personnel Lifts, Railroad Equipment & Utility Maintenance vehicles.
Construction: You can't build anything without the use of hydraulics. Moving dirt, lifting material, shoring trenches, boring tunnels, drilling wells, mixing and pumping concrete are just a few examples.
Industrial | Construction | Marine | Government | Commerical
"Performance Under Pressure"
Because we are a Service Company, we are very familiar with the pressures that come with unexpected breakdowns or outages. When "Murphy" strikes, our customers count on our expertise and experience to get them running again. We've been providing these services and solutions for over 55 years and although we haven't seen it all, we've seen enough to know what works and what doesn't. It's this experience that allows us to solve your problems quickly and efficiently.

Something YOU can do:
Keep it Clean. Cleanliness is truly next to Godliness when it comes to hydraulics. Up to 90% of all hydraulic system failures can be attributed to contaminated oil. Even before breakdown, contaminants in fluid can reduce system efficiency.
– Filter Newly Added Fluid – New oil is typically contaminated beyond what most equipment manufacturers recommend. Use a filtered transfer pump.
– Filter Changes – Establish and follow a program for cleaning of Reservoir Breathers & Suction Strainers, as well as the replacement of filter elements.
– Repair Leaks Immediately – If fluid can leak out, contaminates can find their way in. Take care when opening any part of the system to atmosphere.
– Keep the Equipment Clean – Keep the exterior of the equipment clean from dust, dirt, and debris. Buildup will trap heat & ultimately find a way in.
Some things WE can do:
Preventive Maintenance: Baltimore Hydraulics will conduct Preventive Maintenance visits to your equipment on a schedule that meets your needs. Trained Technicians will assess the condition of your system checking pressures, flows, and for signs of possible problems. A report of our findings and recommendations is provided, allowing for repairs or maintenance to be scheduled at your convenience. A fluid contamination "Particle Count" test is also conducted as part of this service.
System Upgrades: Hydraulic systems can last so long that new technology has made older systems obsolete. We're not saying old is bad, but some innovations can improve the performance and dependability of older units.
Emergency Service: Ultimately things are going to fail, and probably at the worst time. That's why we are available 7 days a week, 24 hours a day.
Baltimore Hydraulics, Inc. has been repairing the hydraulic equipment in our fleet for over 10 years. The service provided has always been of high quality. The staff is professional and reliable. They are focused on providing prompt and quality service to their customers. We rely heavily on their services and would recommend this company to anyone who owns and requires repairs on hydraulic equipment.
 — Al Panuska, MTA Maryland
Baltimore Hydraulics has been a vendor for Lehigh Cement, Union Bridge for over 15 years and they are considered by our maintenance staff to be one of our top performing maintenance contractors. They respond quickly to service requests and have unparalleled technical knowledge and ability in the field of fluid power. They maintain a high level of quality in all of their system and component repairs.
  — Jonnie Robertson, Lehigh Cement
I am writing to express our complete satisfaction with the services provided by Baltimore Hydraulics, Inc. Carroll Tree Service, Inc. has been using Baltimore Hydraulics, Inc. for the past 8 years. We are very happy with the services they provide. Out fleet consists of approximately 40 trucks and 45 pieces of equipment.
— Joe Lankford, Carroll Tree Service, Inc.
Our Web Site contains a condensed view of what our company has to offer. We trust that this will help you in your decision to choose Baltimore Hydraulics, Inc. as your Number 1 Problem Solver. If there are any further questions, please do not hesitate to contact us!